Welcome to Collin County Aggie Moms
Aggie Moms are proud;  proud of Texas A&M University, proud of the daughters and sons they send to Texas A&M, and proud of making a contribution: to the education of their Aggies, to the future of Texas A&M University and to the future of the Great State of Texas.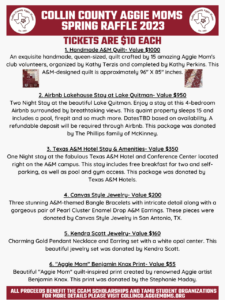 Raffle Time is here!
This year we have a terrific collection of items to raffle off at Family Weekend in April. The drawing will take place April 15th in College Station. You do not need to be present to win. Tickets are $10 each. (There is a $.35 credit card fee if purchasing online.)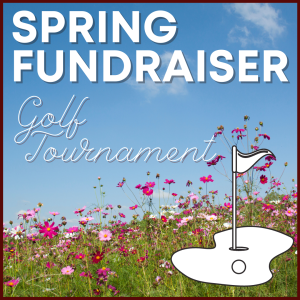 It's Golf Tournament Time!  Monday, April 24, 2023 – Hurricane Creek Country Club in Anna

Sponsorship packages are still available. Get your friends together and register to play! Register by Feb 28th to save $50 on a Foursome!
Click here to get more information on Sponsoring & Registering!
Collin County Aggie Moms Club Has Something for Everyone!
This year we are looking at new and innovative ways to bring our Aggie Mom Community together in a wide variety of activities… Book Club, Game Nights, Football Watching Parties, Brunch, Dinner, Crafting Activities, and more. If you can't find something that interests you, let us know because we welcome suggestions! We look forward to you becoming a member and participating in our many activities.
Becky Bird '89
President 2022-2023
Congratulations to our new CCAM 2022-23 Board
President
President-Elect
Vice President at Large
Secretary
Treasurer
Historian
Parliamentarian
1st VP Membership
2nd VP Projects
3rd VP Socials
4th VP Programs
5th VP Communications
Becky Bird '89
Laura White
Kathy Terzis '90
Jeanne King
Shelley Verhoev
Sofia Davila
Jo Anna Gaudsmith '85
Valerie Pyland
Debby Duty
Glenda Copeland '83
Linda Ali '88
Jamie Hanna
"From the outside looking in, you can't understand it. 
From the inside looking out, you can't explain it."
-Aggie Proverb
12 Reasons to Join Collin County Aggie Moms
Form friendships with other Aggie Moms.
Raise funds to directly support local Aggies through scholarships.
Attend social events with other Aggie Moms.

Network with other Aggie Moms experiencing the "empty nest" syndrome

.
Learn traditions of Texas A&M University.
Attend monthly meetings with guest speakers.

Be part of an organization that has been supporting Aggies for over 100 years

.

Share your experience with newer Aggie Moms.

Give back to our local community.
Learn what your Aggie doesn't share with you.

Brag about your Aggie at monthly meetings.

Have lots of fun with other Aggie Moms!